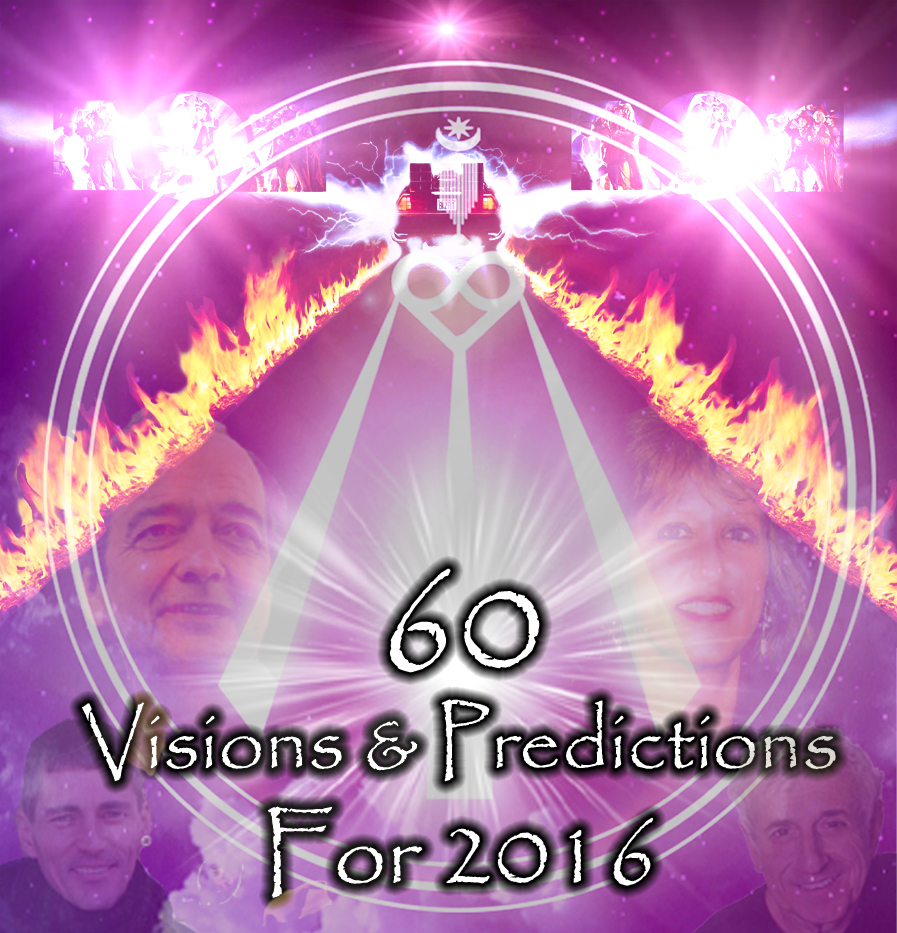 National Radio Program Presents Sixty Visions & Predictions for 2016 from Journalists, Trends Forecasters, & Psychic Mediums
On December 10th @ 10 pm EST, the nationally syndicated "Outer Limits of Inner Truth" (www.outerlimitsradio.com) radio show will proudly present the most comprehensive program to air about predictions, visions, and insights for the year 2016. The show features eighteen of the worlds top Investigative Journalists, Economic & Trends Forecasters, Psychic Mediums, Metaphysical Teachers, and Astrologers.
SHOW LINK: Outer Limits of Inner Truth "2016 Visions & Predictions"
Notable predictions include:
•
Donald Trump loses his bid to become President of the United States.
•
Unprecedented global economic collapse – every nation on earth will be impacted.
•
Beloved member of the Royal Family will pass in 2016.
•
Major Medical breakthroughs in cancer & Alzheimer's research.
Featured guests on the program include:
02:51 - Gerald Celente (Trends Journal Publisher)
14:28 Gregory Mannarino (Economic Forecaster)
21:07 - Kate Delaney (Nationally Syndicated Radio Host & Bestselling Author)
28:18 - Michael Rivero (Founder of WhatReallyHappened.com)
36:24 - Jon Rapport (Investigative Journalist)
49:54 - Michael Harrison (Publisher of Talkers Magazine & National Radio Host)
57:17 - Dave Schrader (National Radio Host & Investigative Journalist)
1:07:00 - Dr. Frieda Birbuam (Research Psychologist & Author)
1:11:11 - Metaphysical Teacher Khris Krepcik (The Hooded Sage)
1:18:00 - Metaphysical Teacher Marie Manucheri
1:30:00 - Missy Galore (Shamanatrix)
1:31:00 - Astrologer Constance Stellas
1:45:00 - Spiritual Astrologer Jeff Haarman
1:49:00 - Astrologer & Licensed Naprapath Dawn Silver
1:55:00 - Psychic Empath Lisa Caza
2:02:00 - Psychic Medium & Past Life Reader Laura Lyn
2:09:00 - Psychic Medium Kerrie O'Connor
2:24:00 - Spiritual Economist & Author Dr. Darryl Robert Schoon
About the Outer Limits of Inner Truth
The Outer Limits of Inner Truth (www.outerlimitsradio.com) is a metaphysical / biographical program produced & hosted by Ryan McCormick. It premiered on February 2014 and within a few short months, was picked up for national syndication on Star Com Radio Networks and is now heard on over 30 AM stations nationwide. OLIT has been featured on the Awakening Zone Radio Network, The Boston Globe, Radar Online, Media Bistro, The Sacramento Bee, Kansas City Star and several other media outlets.
OLIT (Outer Limits of Inner Truth) has featured several Exclusive interviews with individuals such as: IronE Singleton, Chung Fu, Diana Cooper, Marie Manucheri, Jim Rogers, Jeff Casper, Michael Harrison, and Reverend Sally Perry. The show has also profiled celebrities such as Oliver Stone, Howard Stern, Jane Velez-Mitchell and Mick Foley.